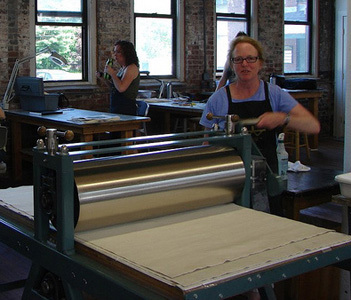 I am a painter and printmaker currently working and residing in Tamworth, New Hampshire, where I work from my home studio. My art is directly influenced by intellectual curiosity about historical subjects, as well as daily observations of the natural landscape on my farm.

As a painter, I have worked in a variety of media, including oil and alkyd, acrylic, pastel, watercolor, and most recently, encaustic. My interest in printmaking began when I first experimented with the painterly monotype. For the past thirty years I have concentrated in printmaking and have worked in many techniques including: etching/drypoint; additive, subtractive, and viscosity monotype; collagraph; silk aquatint; and woodblock. My work is printed on a Takach 24" x 48" etching press.

From the time I was old enough to hold a crayon, I have been making art. After being fortunate to have an inspiring art teacher in high school, I went on to earn my B.A. in Art from Brown University in 1975 and continued intensive study at the Rhode Island School of Design's School of Continuing Education from 1979 through 1989. Because I work in relative isolation in my home studio, I especially appreciate the comraderie and artistic feedback I receive from attending workshops on a regular basis. As a member of Zea Mays Printmaking Studio in Northampton, MA, I have continued to learn new techniques in non-toxic printmaking at various workshops throughout the year. In addition, I have attended workshops with master printers Heather Arak and Nathan Kanofsky, Kurt Wisneski, Sarah Amos, Catherine Kernan, and Catherine Farish.
I am a member of The Boston Printmakers, The Monotype Guild of New England, and Zea Mays Printmaking Studio. My work is represented by the Patricia Ladd Carega Gallery in Sandwich, NH, as well as the Flat File Project at Zea Mays Printmaking.